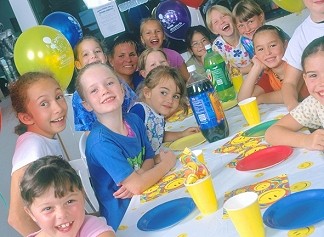 Birthday parties at Excalibur are fun for all ages!  Available every weekend, each party includes one hour in the gym for fun and games and a half hour in our party area for the children to eat cake, ice cream and open presents.  When available, the gym may be rented for additional time at $45 per half hour.  Choose the party package that's right for you.  Every birthday child receives an Excalibur t-shirt.
Basic Party Package
We provide balloons, invitations, drinks, tables, and chairs.  $199.00 for up to 12 children.  Additional children $8 each.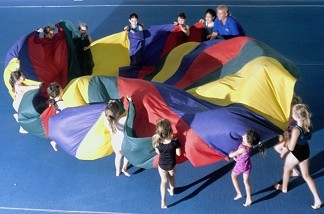 Deluxe Party Package
No time on your hands?  We'll cater it all for the busy parent.  All you bring is the children, cake and gifts!  We provide snacks, drinks, balloons, tablecloths, plates, forks, napkins and cups.  $259 for up to 12 children.  Additional children $10 each.
Super Deluxe Package
Want to splurge a little? We provide the invitations, instruction, tables, chairs, balloons, birthday child t-shirt, plates, cups, napkins, utensils, drinks and PIZZA! $339.32 up to 12 children. Additional children $12 each.
A 50% non-refundable deposit required when scheduling your party.
Downloadable Forms:
Please call our office at 757-499-8258 to schedule your child's party!