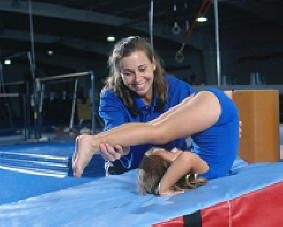 Our recreational program is designed to develop coordination, strength, flexibility and agility through motor activities and progressive gymnastics skills. Children are trained on all Olympic apparatus, including trampoline. Each child experiences success and individual accomplishments with each new skill learned. Classes can be one or two hours per week. Two classes weekly are recommended for children to improve their motor skills. As students progress, they can be moved to more advanced classes that will enhance their skills even further.
Check Out Our Fun Castle
It might look like just child's play, but toddlers are hard at work learning important physical skills as they gain muscle control, balance, and coordination. Each new skill lets them progress to the next one, building on a foundation that leads to more complicated physical tasks, such as jumping rope, kicking a ball on the run, or turning a cartwheel.