Recommend a friend, and if they register with the Excalibur

Gymnastics recreational program, you will receive a discount

on your next tuition statement.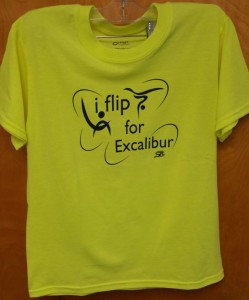 Bring a friend and receive a free T-shirt. Limited time only.
100 % back on the morning classes (Monday – Friday)
50% back on the afternoon classes (Monday – Friday) & All day Saturday

There is not a limit on the number of friends you can bring. Stop by the front desk for more information.
This offer includes Parent& Me, Pre-School, Level 1 (5-8), Level 1 8+, Level 2, Boys 6+, Boys 10+, Adults, High School Gymnastics, and Tumbling.
REFUND IS BASED OFF YOUR FRIEND'S FIRST MONTH'S TUITION.
NO CASH REFUND.